WELCOME TO ST.JOHN RESORT
Hotel St John Resort - Luxury Classic Villas

Located on the outskirts of Tsilivi, Hotel St John Resort Villas has been constructed and furnished in a contemporary manner yet still retains a traditional Zakynthian style.
ABOUT US
---
Ideally situated on the grassy hill of Tsilivi in Zakynthos Island Greece, offering panoramic views of the Ionian sea and overlooking the village and the long sandy beach, these villas are of the highest quality and all have the added luxury of their own private swimming pools.
The hotel consists of 21 villas in total all with panoramic stunning sea views.
There are two types of villas, three bedroom villas measuring 130sqm or two bedroom villas measuring 100sqm. All have their own private entrance, private swimming pool ,private parking and private garden.
EXPLORE ST.JOHN RESORT
Hotel St John Resort - Luxury Classic Villas

---
Hotel St.John Resort - Villas complex consists of 21 villas in total. This classic villas offering magnificent panoramic sea views from balconies or terrace, all luxuriously furnished with all the facilities that will make your stay enjoyable and comfortable.
St.John Hotel Villas complex is designed to provide the ultimate in space and comfort. Each villa features its own private parking and garden area with private swimming pool. We Provide Reception Area, Restaurant, Mini Market, Playground, Spa - Health Center - Beauty Institute, Gym.

The Noya Restaurant is set in the middle of the St.John Hotel Villas complex, offering amazing views of the Ionian Sea. Is open from 02/05/2023 to 30/10/2023 and operates daily from 08:00 - 23:00 for breakfast and dinner. In an elegant outdoor setting, our chef creates delicious dishes based on the Mediterranean cuisine.
St.John Hotel Villas complex offers traditional beauty treatments and unique treatments designed with you in mind. Our spa staff offer health and beauty advice on a wide range of subjects and whatever your requirements we are sure you will find numerous treatments and activities to suit.
The people who will be taking care of you!

Welcome to St. John Resort, Villas – your second home in the heart of the island. My professional team and I look forward to making your stay an unforgettable experience and discover the island's beauty and secrets.
We wish you a wonderful and pleasant stay at St. John Resort.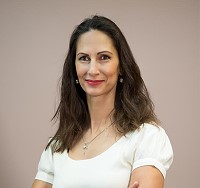 A very warm welcome
from the General Manager
Narkis Vasilescu
CALL US
Anytime you need help or assistance, we are but a phone call away. Our staff is always available and will do its best to assist you in any matter.
PHONE NUMBER
Tel: +30 26950 24178
Fax: +30 26950 25045
E-MAIL US
Feel free to email us with requests as well as questions regarding our villas and the island. We will be happy to offer information and solutions.
BOOK ONLINE
Check our online booking system for rates, availability and special offers. Book direct and receive immediate confirmation.